We are excited to have Kathy Winters Designs sharing her talents with us at Plain Digital Wrapper this month. Kathy has been designing for almost four years and got her start in designing by creating word art which she said she loved because it gave her an opportunity to play with words, quotes and phrases. You can keep up with Kathy Winter Designs on her Facebook page, her blog, and by subscribing to her newsletter.
Kathy shared the following in our interview with her:
What was your favorite childhood toy or game? Yahtzee!  I have fond memories of heated games with my Grandma.  She loved to yell, Yahtzee!!
Were you named after anyone? Yes, my mom.  She's Kathryn Jane and I'm Kathryn Lynn.
What would you do with a million dollars? Take a nice long vacation!
What is your favorite snack to scrap with? A secret stash of pretzel M & M's from my desk.  Shhh….
What is your weakness? Puppies, I just love puppies.
What is your all-time favorite kit that you have designed and why? An Elegant Day.
I designed this kit using the color combination of black, turquoise and shades of gray.  I wanted it to be something that could be used for a multitude of themes but also be used for those elegant or special occasions in your life.  I liked the kit so much that I use it to decorate my blog and my designer logo.
What's the scene when you design? My ideal setting is being in my home office with some Smooth Jazz playing on the radio.
Do you have a personal CT? I do have a personal creative team that just recently grew from 10 ladies to 20.  My original team has been with me for some time and they are my biggest cheerleaders.  I love these girls!  They are so loyal and creative that I spoil them whenever I get the chance.
What keeps you designing? That's easy.  It's the random email that I receive from a customer telling me how much they appreciate me sharing my talent.  Or how a kit will be used to scrap a special memory in their life.  And they always seem to arrive just when I need a boost to validate the long hours at the computer.
If you could only do one or other, would you rather design papers or elements? Elements or specifically decorated Wordart.  After I finish a kit, I like to challenge myself by designing a set of coordinating wordart, using pieces from the kit.  It gives me a chance to see what works and what doesn't work by being the first one to play with the elements and paper in the kit.
Kathy has her PDW exclusive first products, Butterflies in Bloom, in the store and currently on sale for 25 percent off.  Kathy shared this about the inspiration for her new kit:
I'm from mid-Michigan and every year we visit Dow Gardens in Midland for their Butterflies In Bloom program. Each year they bring in chrysalises from all over the world, which hatch through out the month of March, filling their conservatory with beautiful butterflies.   It's such a beautiful sight to see these butterflies up close and personal fluttering among the tropical plants and flowers.  Looking back over some pictures I took last year at this time, I decide to create my own beautiful butterflies, which lead to the Butterflies In Bloom collections.
You can also purchase coordinating Word Art, Stacked Papers and Journal Cards either separately or, for an even great discount, as part of a bundle.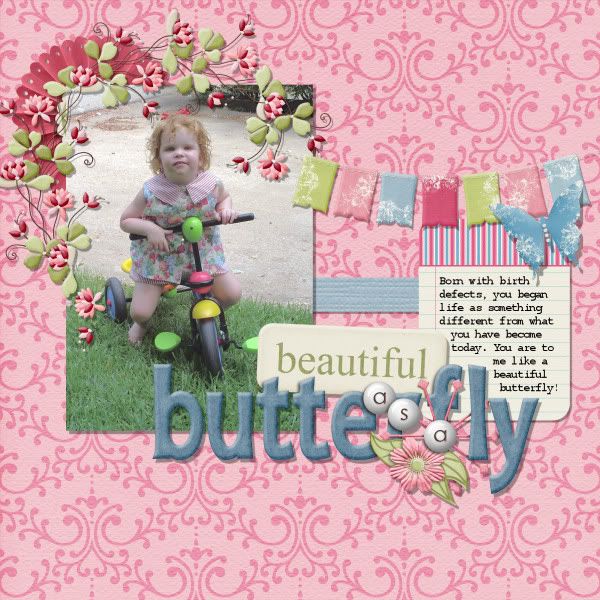 Layout by demma_b13.

Layout by demma_b13.

Layout by mrscwooddell.
Layout by cla.

Layout by GlitterQueen.

Layout by Sandie03.

Layout by Sandie03.

Layout by scrapsofcandy.
Kathy has a special gift from Butterflies in Bloom just for our PDW Blog readers.
[Download not found]
Make sure you stop by Kathy's blog because I saw another gorgeous quick page gift from Butterflies in Bloom over there too.
Happy Scrapping!